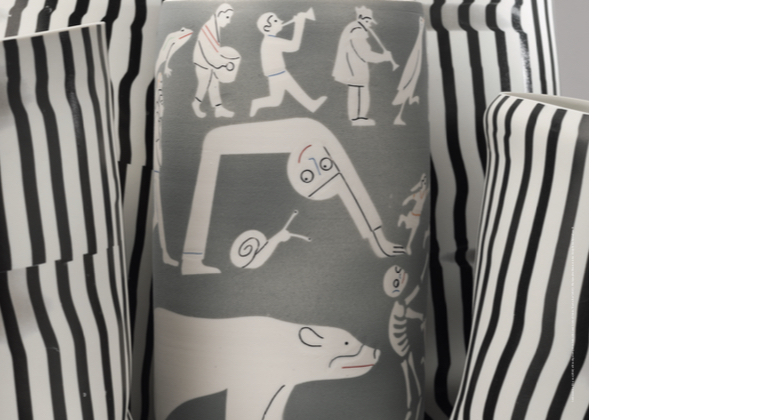 Melting Pot
Contemporary Swiss ceramics
From 11 to 16 September, swissceramics, the Swiss Ceramics Association, will host the 50th Congress of the International Academy of Ceramics (IAC) in Geneva. In this context, the Association is organizing a national exhibition on "Melting Pot", the general theme of the AIC Congress.
Displayed in the exhibition, which is being held simultaneously at the Château de Nyon and the Musée d'art et d'histoire de Neuchâtel, are the works chosen by a jury during the competition organised by swissceramics. This representative selection of the current Swiss ceramics scene, is enriched by the creations of the hoi Keramik collective and the works proposed by Eva Vogelsang, in collaboration with Andreas Stebler, which are presented in both institutions.
A "melting pot" is a cultural environment where different origins mingle and become assimilated, harmoniously if possible. The term of course also refers to the crucible in which a material – ceramics in this case – is worked. This is the theme that has guided the artists in the works presented in Neuchâtel and Nyon in the latter part of 2022 and early 2023.
Some ceramists have interpreted "melting pot"/crucible literally, mixing clay with different materials, in combinations some of which might seem unlikely. Others have seen it as an opportunity to evoke environmental issues – the major concern of our time – or the political anxieties that perturb our world, such as the intensification of political extremes or the burning problem of population migrations.
Between 1781 and 1813, Nyon was the site of a factory initially manufacturing porcelain and going on to produce china as late as 1979. Subsequently, the memory of this industrial tradition was celebrated in international contemporary porcelain Triennials, organised between 1986 and 2001, followed by various exhibitions devoted to porcelain (in particular, the two parts of Attention fragile! in 2010 and 2011) and to ceramics in general.
It is a very great pleasure to welcome to the Château de Nyon this exhibition of contemporary ceramics with its mingling of several generations of ceramists, both established artists and promising new names capable of creating a felicitous union between the practice of ceramics and contemporary art.
The artists present in Nyon are: Arnold Annen, Claudia von Boch, Léandre Burkhard, Violette Fassbaender, Nathalie Heid, hoi Keramik, Felix Hug, Timothée Maire, Aline Morvan, Müller -b-, François Ruegg, Heike Schildhauer and Melissa Fahrni, Eva Vogelsang.
Preview on 15 September 2022, from 6 to 8 p.m.
__________________________________________________________________________________________________
Dates at the Château de Nyon
Guided tours
Saturday 8 October, Sunday 11 December 2022 and Sunday 12 February 2023 at 2.30 p.m.
The tour lasts 1 hour. Open to all. No booking required. Free on presentation of the admission ticket.
Rendez-vous
Saturday 5 November 2022, non-stop from 2 to 5 p.m.
La Journée des Arts (Arts Day). The exhibitors will be there and will demonstrate the techniques they use in working with ceramic materials. Open to all. No booking required. Free of charge.
Workshops

THE WORD POT: Wednesday 19 October 2022 and Wednesday 15 February 2023 from 2.30 to 4.30 p.m.
Tour-workshop for adults and families (children must be accompanied between the ages of 6 and 9).
An inspirational tour of the exhibition and concoction of a pot of personalised messages just for you or to give as a present.

NIGHT FLOWERS: Saturday 22 October 2022 from 5 to 7 p.m.
In conjunction with the Nuit des Châteaux 2022. Tour-workshop for adults and families (children must be accompanied between the ages of 6 and 9). Torchlight tour of the exhibition and creation of an origami vase with a luminescent floral decoration.

JUST STORIES! Saturday 18 February 2023 from 2.30 to 4 p.m.
Family workshop from the age of 8. Create a notebook full of words, colours and drawings, inspired by the objects, lines, and the full or empty spaces you discover in the exhibition.

You need to book. CHF 17.-/child CHF 12.-. The workshops are organised in collaboration with Lémancolie.
_________________________________________________________________
April to October: open from 10 a.m. to 5 p.m. November to March: open from 2 to 5 p.m. Closed on Mondays except public holidays.